South Western Railway workers to be balloted over strike action
RMT says new franchise owner First MTR must give cast-iron assurances over the future of train guards on the network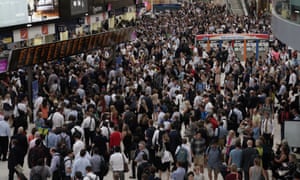 Passengers have just experienced a month of disruption due to major engineering works at Waterloo station Photograph: Yui Mok/PA
Thursday 31 August 2017
The dispute over guards on trains, which has wreaked havoc on Southern and will result in more strikes in the coming days, is threatening to spread to another rail franchise, South Western Railway.
The
RMT
union said it was in formal dispute and was preparing to ballot members for a strike over what it called the failure of the new franchise owner, First MTR, to give "clear, cast-iron assurances" over the future of guards on South Western trains.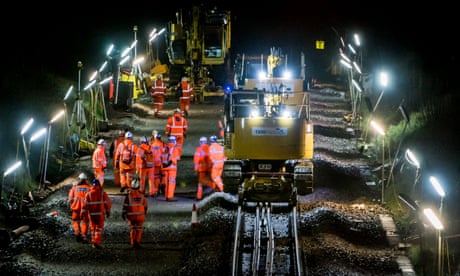 Grayling sparks fury by scrapping rail electrification plans
The announcement came as the RMT prepared to stage strikes between Friday and Monday across three rail networks – Southern, Northern and Merseyrail – in protest at changes to the role of guards or conductors, as more driver-only operated trains were brought into service.
Merseyrail and Northern both expect to run a reduced train service terminating at about 7pm on strike days, although Southern said there would be minimal disruption.
Paul Plummer, the chief executive of the Rail Delivery Group, which represents train companies and Network Rail, said: "Britain's railway connects communities across the country and train companies are doing all they can to keep passengers moving on the day many students return to school or college, and people are going back to work. Opportunistic strikes by the RMT leadership seek to disrupt, as they did during the Grand National and Tour de Yorkshire."
South Western, which took over the franchise 11 days ago, said the action was unnecessary and premature. However, the union said it had unsuccessfully tried to obtain guarantees on the role of guards in the months since First MTR, a consortium of First Group and Hong Kong-based MTR, was awarded the franchise – but had "been met with a barrage of spin and prevarication".
Mick Cash, the general secretary of the RMT union, said: "They have refused to give us those guarantees and it is that failure which leaves RMT with no option but to declare a formal dispute with the company and to move towards a ballot for action.
"This dispute can be easily resolved if the company are prepared to stick to existing agreements, give staff and passengers alike a guarantee of a second, safety-critical member of staff on all current services and an assurance that safety and access are the absolute priority."
Referring to marketing posters which referred to guards on South West Trains – as it was then known – as "legends", Cash said: "It is time for First MTR to stand by those legends and to withdraw the threat to throw them off the trains." He said the union remained available for talks.
A South Western Railway spokesman said: "This dispute is unnecessary. We have made it perfectly clear that we plan to retain a second person on our services as we know that our passengers value the assurance and assistance a second member of onboard staff provides.
"During our franchise, we will increase the numbers of drivers and guards so we can deliver more services for passengers. We look forward to talking with our teams and the trade unions about how we can work together to deliver the best possible service for our passengers. In fact, we already have a meeting in the diary with the RMT which makes today's announcement very premature."
Passengers on South Western have just experienced a month of disruption due to major engineering works on the network's London Waterloo terminus. Services to the UK's busiest railway station were affected again on Thursday, three days after the works to rebuild platforms were completed. A signalling problem meant fewer trains were able to run on lines out of Waterloo, causing more delays and cancellations. Network Rail said the latest signalling problem was not connected to its engineering works.