The long and winding road to BPCL privatisation
A survey of expert opinion by ET Energy world highlights that disinvesting the government's stake in BPCL to a private entity is a prudent move for the government and the oil retailer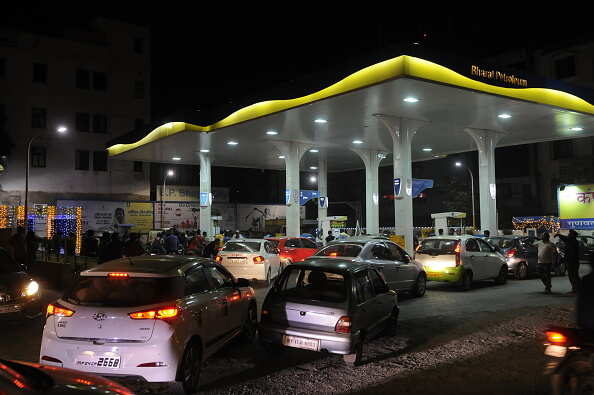 New Delhi: With the government yet to officially reveal the fine-print of the planned strategic sale of its stake in Bharat Petroleum Corp (
BPCL
) the jury is still out on the benefits of the move and the pace at which the centre will be able to complete the disinvestment process considering the mammoth Rs 1.05 lakh crore disinvestment target for the current fiscal.
The country's second-largest oil marketing company operates four refineries at Mumbai, Kochi, Bina and Numaligarh with a combined capacity to convert 38.3 million tonne of crude oil into fuel. It owns 15,078 petrol pumps and 6,004 LPG distributors across the country. The Maharatna firm employs around 12,000 people and clocked a net profit of Rs 7,132 crore last financial year on a
total
income of a staggering Rs 3.4 lakh crore.
The group of secretaries on disinvestment gave its approval to sell the government's entire 53.29 per cent stake in BPCL on 30 September. Last week,
DIPAM
invited request for proposals from eligible parties to work as transaction and legal advisors, and asset valuers for five PSUs, including BPCL. The proposal is now likely to be put before the Union cabinet next month.
A survey of expert opinion by ETEnergyworld highlights that disinvesting the government's stake in BPCL to a private entity is a prudent move for the government and the oil retailer, being one of the market leaders in the country's downstream sector, presents an attractive business proposition for domestic and foreign investors.
"If there was no money motivation the government would not have done it. In the long-term, such a move makes sense as oil retailing is going to be a diminished business over a period of time and in terms of valuation the government would like to capture the value now as compared to a later date when the chances of its valuation going down are more," said a senior analyst at an accounting and consultancy firm who did not wish to be quoted.
Increased clamour over climate change and recent posturing by the Indian government on increasing electric vehicle (EV) penetration in the country has cast a shadow of doubt over the country's motor fuel as well as petroleum product demand growth in the long-term. Moreover, India's petroleum production has been outstripping the country's domestic demand, raising questions over the prudence of increasing refining capacity.
At least two recent developments may have buoyed the government's confidence over the attractiveness of BPCL – the recent announcement by Saudi Aramco and BP to partner with Reliance Industries for its downstream assets and a Rosneft-led consortium taking over Essar Oil's downstream assets in 2017 including its retail outlets.
"Establishing a retail outlet network and refinery is not easy in India. BPCL has a good brand value among its peers and is a competitive organisation. Also, it would take several years for a company to set-up the kind of infrastructure that BPCL has. It is an opportunity to become the second-largest fuel retailer in the fastest growing oil market in the world. Aramco's and BP's decision to partner with RIL has also increased the overall investor sentiment," the analyst said.
Other experts say the government will be hard-pressed for time if it wants to complete the entire exercise by March 2020 in the light of recent employee union protests, a short five-months' time frame for stake sale, clarity on issues related to LPG and Kerosene subsidy and the selection of assets, like Numaligarh refinery, which may or may not be a part of the disinvestment exercise.
"Numaligarh maybe a special case as it was set-up as part of the Assam accord. The refinery gets subsidy from central government as well as excise duty exemptions, which results in higher margins," said K Ravichandran, Senior Vice President at ICRA.
The refinery was included in 'Assam Accord' as part of the Government of India's offered economic package in 1985. The asset currently posts an annual net profit of around Rs 2,000 crore. BPCL owns 61.65 per cent share in Numaligarh Refinery Ltd while the Assam government and Oil India own 12.35 per cent and 26 per cent, respectively.
"As it is a remotely located area without fiscal support, that kind of margins cannot be sustained. Whoever wants to buy BPCL may want some clarity on policy continuity. Other partners and the state government may also have a say in Numaligarh being sold to a private company. If the other stakeholders are not comfortable, there are chances the refinery may not be a part of BPCL's disinvestment exercise. Such complications may not be there with other JVs and subsidiaries of BPCL," Ravichandran said.
OTHER HURDLES
A majority of the analysts and industry experts surveyed were of the opinion that while buying BPCL is a value proposition, there may be issues related to fuel pricing, lack of clarity over LPG and kerosene subsidy, approval of JV partners and mass protests.
"Several complex regulatory hurdles persist -- excise tax benefits for North Eastern refineries, LPG subsidy programme, preferential access to domestic crude, approval of partners in JV projects (Mozambique LNG, Bina refinery) etc -- which will take time to resolve," equity research firm Edelweiss said in a recent report.
Parallel or private marketers are not allowed to sell subsidised LPG and are operating in the packed domestic LPG, packed commercial LPG, industrial LPG, and auto LPG space. If BPCL is privatised, the government may have to bring in changes to the existing framework of LPG marketing in order to allow the new entity to retain BPCL's existing Pradhan Mantri Ujjwala Yojana (PMUY) beneficiaries and sell subsidised LPG.
According to Ravichandran, the sale of stake to a private entity may not significantly impact profitability. "Even though LPG is a fast growing product but other profitable petroleum products exist too. It will not make much difference. LPG marketing and guidelines are also under review. The government has formed a committee to decide on these issues. If such a take-over is allowed, it is only a matter of time before those laws are also amended and private participation is allowed," he said.
At least one equity research firm has also pointed out that while fuel pricing is de-regulated, the government's continued intervention in pricing of fuel may hold back investor interest. "More than 75 per cent of the Indian fuel marketing business is owned by three PSU OMCs IOCL, BPCL and
HPCL
. This helps the government (not the company Board) unilaterally decide to reduce fuel prices at times, such as Oct 2018 (prices were reduced by Rs 3 per liter including Re 1 per liter hit taken by the OMCs)," Mumbai based Centrum Broking said.
While the current crude prices are at comfortable levels and do not pose a risk, clarity would be needed on resilience of this deregulation in a rising crude price environment for the deal to see interest from global players, it added.
Apart from the fuel pricing issue, tackling concerns over Numaligarh refinery may prove to be a tough nut to crack. "NRL issue is little more difficult. There first needs to be disinvestment of that asset as there are multiple stakeholders and there are major excise duty benefits. As it is a government company, it is not going to be easy to unwind that. The PSU has various kinds of stake in various other companies as well. As there is public interest involved in many of the actions, it is going to be very complicated," the senior analyst quoted above said.
A senior executive at one of the three OMCs, who did not wish to be quoted, said the government would do well to take note of the employee protests against the privatisation move.
"It is not unusual for employee unions to protest against privatisation of BPCL. There is no official statement made so far which is fuelling rumours and panic. The announcement of privatisation of a government company leads to fear of job loss, which is a big deal in the present economic conditions. Managing the narrative about all of this is important if the government wants to allay fears of the employees and their unions," he said.
Last week, the Numaligarh Refinery Oil Tanker Association staged protest against the decision at a marketing terminal of NRL. The employee union and the worker unions of NRL also staged protests at the main entrance of the refinery where hundreds of protesters reportedly participated by holding banners and placards and raising slogans against the move.
BPCL employees also staged protests near Mumbai and Kochi refineries recently. Also, Cochin Refinery Workers Association and BPCL Mazdoor Sangh have called for a nation-wide protest along with plans to conduct a parliament march protesting BPCL's privatisation on 15 November, news daily The Hindu reported.
With a plethora of issues to tackle, the stake sale is likely to be a time taking process. Equity research firm Nomura has pointed out that the timeline for the disinvestment exercise is short. "The timeline is short (potential transaction by March 2020), we will not be surprised if global investor interest is lukewarm. However, in our view, existing large players in India, including Reliance Industries and IOC could show interest," the report said.
Total's Chief Executive Officer, Patrick Pouyanne, while replying to a question at an event in New Delhi on whether the company would be interested in buying BPCL, said that it would be interested in investing in the country's downstream petrochemical sector as well as fuel retailing sector, however, it was not keen on investing in refineries.
BP Chief Bob Dudley speaking at the same event told media that it is too early to take a call on buying BPCL and the company will first assess the offer before taking any decision.
A news report earlier this week, citing unnamed sources at Saudi Aramco, had said that the Saudi oil behemoth was interested in buying BPCL.
NOT THE FIRST TIME
This is not the first time the government has tried to sell BPCL. In 2002, the then National Democratic Alliance (NDA) government headed by former Prime Minister Atal Bihari Vajpayee tried to privatise BPCL and HPCL. However, the government's plan was stalled after the Supreme Court observed it would require Parliament's approval.
The apex court had then cited the ESSO (Acquisition of Undertaking in India) Act and the Burmah Shell (Acquisition of Undertaking in India) Act, 1976 and Caltex (Acquisition of Shares of Caltex Oil Refining India Ltd and all the Undertakings in India for Caltex India Ltd) Act, 1977 to rule that the government cannot privatise HPCL and BPCL without approaching Parliament for changing the law that nationalised them in the first place.
"There is no challenge before this Court as to the policy of disinvestment. The only question raised before us whether the method adopted by the Government in exercising its executive powers to disinvest HPCL and BPCL without repealing or amending the law is permissible or not. We find that on the language of the Act such a course is not permissible at all," the Supreme Court judgement read.
Reliance Industries, BP of UK, Kuwait Petroleum, Petronas of Malaysia, the Shell-Saudi Aramco combine and Essar Oil had then expressed interest in acquiring stake in both the companies.
BPCL was previously Burmah Shell, which was nationalised in 1976 by an Act of Parliament. Burmah Shell, set up in the 1920s, was an alliance between Royal Dutch Shell and Burmah Oil Co and Asiatic Petroleum (India).
Three years back, the current NDA government under the repealing and amending act of 2016 annulled 187 obsolete and redundant laws including the Act of 1976 that had nationalised the erstwhile Burmah Shell.
According to the Statement of Objects and Reasons for the Repeal Bill introduced in the Lok Sabha on 13 May 2015, the idea was to bring reform in the legal system by removing incoherent and redundant laws.