Some services carried twice as many people as trains were designed for, Department for Transport figures show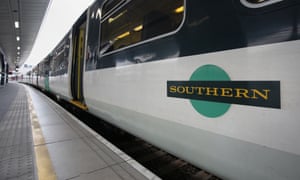 A Southern 5.40am service from Uckfield to London Bridge had 242 passengers squeezed on to two carriages. Photograph: Philip Toscano/PA
Thursday 27 July 2017 BSTLast modified on Thursday 27 July 2017
Southern
rail services carrying more than twice as many passengers as they were designed for were the most overcrowded in the country last year, government statistics reveal.
Five of the top 10 most jam-packed trains from spring 2016 and two from autumn were operated by Southern, with Department for
Transport
monitors recording 242 passengers squeezed on to two cars on the 5.40am service from Uckfield to London Bridge.
In the autumn, 1,366 passengers were on a Southern train with space for 640, as it approached London Bridge from East Grinstead at 8.20am.
Six of the other most crowded services were Thameslink or Great Northern trains, part of the same Govia franchise as Southern, and two more were evening London Midland departures from Euston to Crewe, also operated by Govia.
Only TransPennine Express rivalled Southern for overcrowding, with four trains in total in the two seasonal top 10s. At worst, 361 passengers squeezed on to a four-car Glasgow to Manchester airport train designed for 191, as it passed Oxford Road station in Manchester.
The statistics confirm that there are in total more passengers than seats on trains arriving in central London every morning, the only UK city where this is the case.
Half of daily arrivals into London are in the morning peak, whereas in other cities this figure is around one-third. More than 583,000 passengers travel into the capital every morning by train, compared to 42,000 in Birmingham. The biggest percentage growth in rush hour train usage was in Manchester and Leeds last year, both at more than 7%.
The transport secretary, Chris Grayling, signalled last week that he was planning to scrap first-class carriages on more commuter trains in an effort to ease overcrowding. Separate compartments have already been reduced on shorter routes, and the Southeastern franchise is set to eliminate more first-class seating when it is renewed.
All of the most crowded services found by DfT researchers had first class compartments.
Last year's figures showed the busiest 2015 train was a Thameslink service, with Glasgow-Manchester airport trains close behind.